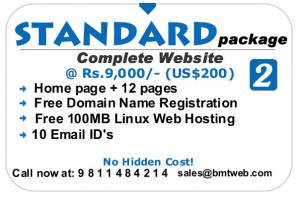 STANDARD PACKAGE @ Rs. 9,000/- or US$ 200
Item Code : STANDARD PACKAGE
Complete Homepage + 12 page (STATIC WEBSITE)
Free Domain Name Registration - 1 year
Free 1000 MB Linux Web Space - 1 year
15 Email Id's
STANDARD PACKAGE @ Rs. 9,000/- or US$ 200
Features of this package:
Complete Homepage + 12 page HTML Web Site Designing (STATIC WEBSITE)
Free Domain Name Registration - 1 year
Free 1000 MB Linux Web Space - 1 year
Animated Homepage Banner
Online feedback form to get response from the visitors
Creative Web Site Design ( We shall find all necessary images and information according to your requirement and specification. )
Free Search Engine Submission
Free Server setup
Mail Configuration
15 Emails IDs
15 Auto responders
Complete Access to Web Control Panel to manage/ add/ remove Emails A/c's
Web Statistics: Gives complete details of number of people visited to your website on an hourly, weekly, monthly basis. It also given the detail as from which part of the world people are visiting to your website.
Spam Protection
Online Support
Material to be provided by you:
Photographs, logo, other images.
Text and content details
Any other relevant information required to be put on the Web Site
Development Time: 1-2 weeks
Customised Web Site packages are also available.
Payment Terms: