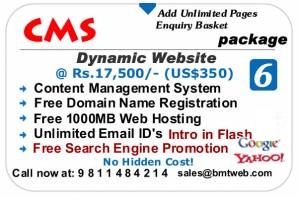 CMS Website @ Rs. 17,500/- or US$ 350
Item Code : CMS Dynamic Package
Content Management Software with unlimited pages management
Free Domain Name Registration - 1 year
Free 1000 MB Linux Web Space - 1 year
Unlimited Emails Id's
CMS DYNAMIC PACKAGE @ Rs. 17,500/- or US$ 350
OUR BEST PROFESSIONAL DYNAMIC CONTENT MANAGEMENT SYSTEM WEBSITE PACKAGE
Package Cost ( INR 25,000/- Goodwill Discounted Rate 17,500/- only US$ 350 )
Features of this package:
Professional Quality Website Development ( Standards as per the corporate company's website and search engine friendly)
General Static Pages Designing (e.g. Home | About Us | Products | Enquiry | Contact | Terms )
Admin Control Panel to manage everything (e.g. Static Pages | Products Categories n Items | Images )
Content Management System
Dynamic Website Development
Free Website Promotion on all major search engines ( like Google, Yahoo, Bing, etc) - 1 year
Add Unlimited Pages (You can manage all Pages, add new, update or delete)
Picture Uploading
Online feedback/ enquiry form to get response from the visitors
Creative Web Site Design ( We shall find all necessary images and information according to your requirement and specification. )
Free Server setup
Additional Features:
Newsletter Signup & Management ( User's can sign up at your website, there email will be added in the site database. Admin can mail them new offers or anything, anytime. You can also import our email list and mails accordingly.
Banner Management ( Admin can manage banner's on the homepage, can upload images of there choice on there own)
Refer to a Friend ( Any visitor at the site can refer the site to there friends, We also have import friend list feature from Outlook, Gmail, Yahoo n others )
Static Page Management ( Admin can manage basic static pages like About Us, Contact Us, Terms, Privacy, etc on there own, will get word like editor to put any sort of content with image upload function )
Search Database ( Admin will get comprehensive search facility, with option of setting keywords for each products as per there choice )
Enquiry Basket ( Visitors can enquire for products on the site, add them in enquiry basket and send you complete details )
Manage Keywords: Add/Edit/delete keywords for which n every page on your own, we follow url-rewriting techniques so that each page of your website is crawled by search engines.
Social Networking:We can link social networking sites like Facebook | Twitter | Linkedin as required by the client
Material to be provided by you:
Photographs, logo, other images.
Text and content details
Any other relevant information required to be put on the Web Site
Development Time: 3-4 weeks
Payment Terms:
50% Advance payment. (Please make 50% advance cheque in favor of 'Blue Moon Technologies' as the acceptance of the proposal.)
50% After completion of the Web Site.